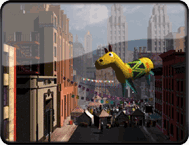 Here is a collection of other Grim Fandango related stuff which you might find intresting, but which didn't fit into any other categories.

Grim Fandango via Wiimote

Nick Donaldson kindly provided us with instructions on how to set up your Wiimtoe as a controller for Grim Fandango. You'll need a wiimote with a nunchuk, a computer with built-in bluetooth or a compatible adapter, and the free open source GlovePie program. The joystick can be used to move round, and several buttons have been mapped to actions and menu access. To set this up for yourself, follow these steps:


Sync the wiimote to the computer Open GlovePie, and choose File->Open to open the GrimFandango.PIE script Click "Run". If the wiimote is synced properly, you will see a number in the little window next to "Run" which changes depending on how fast the wiimote is being moved around. Open Grim Fandango and MAKE SURE "Joystick/Gamepad" is DISABLED in the options, or Manny will never stop moving forward! Kick back and enjoy being free from the keyboard and mouse!

Olivia's Poems

Ashes

Ashes to ashes
...to ashes
to ashes...
...to ashes
to ashes...
...to ashes
to ashes...
to ME...
...to ashes
to ashes...
...to ashes
to ashes...


Boney

I called my cat "Boney."
'Til she said it wouldn't do.
I said, "Why?"
She said, "Sister,
'Cuz that's what I'VE been calling YOU!"


Grim Fandango

With bony hands I hold my partner
On soulless feet we cross the floor
The music stops as if to answer
An empty knocking at the door
It seems his skin was sweet as mango
When last I held him to my breast
But now we dance this grim fandango
And will four years before we rest


Rusty Anchor

Wind pierces my hull
An iceberg, a needle.
Sweet whispered nothings
"Sail tonight!"
A storm!
This deathbed harbor.
By love's rusty anchor,
Forever moored.

The Cats

The cats that are featured in the cat race while Manny is in Rubacava for the first time are: Chitty Chitty Bang Bang Kitty the Owl Dez Denoma Snowballs Jumps 'n' Al Kentucky Whiteball Tiger Lily Siamese Express Prince Winky Ta Ta Pick up the litter Sprinting for the judges Twinkle Toes Big Bucky Bumper