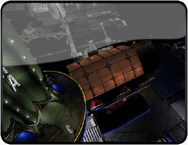 About the Game

Grim Fandango is a 3D adventure game (well, 3D characters over pre-rendered 3D backdrops), which features similar gameplay to the other classic LucasArts adventure games which some of you may be farmiliar with, such as Monkey Island or Sam & Max Hit The Road. The project was lead by Tim Schafer, who was also responsible for Day of the Tentacle and Full Throttle during his time at LucasArts, before he left to form his own company Double Fine Productions.

Even though Grim Fandango was released back in 1998, it is still greatly popular and admired today. This is down to the fact that it has all of the features which make an adventure game great, such as a truly unique storyline, stunningly rendered backdrops and cutscenes, well thought out puzzles, an incredible soundtrack and thousands of lines of superbly acted dialogue. All of these characteristics really draw you into the game's world, and create a timeless adventure. Grim Fandango has won countless awards and is still well recognised to this day, a decade after its release.

The only way to understand how incredible the game really is is try it for yourself. Give the demo a go, and if you like it (which I'm sure you will) then you can try and find a copy.


Game Features

Here is a rundown of the game's features from the LucasArts Official Site:

Something's rotten in the Land of Dead and you're being played for a sucker. Meet Manny Calavera, travel agent at the Department of Death. He sells luxury packages to souls on their four-year journey to eternal rest. But there's trouble in paradise. Help Manny untangle himself from a conspiracy that threatens his very salvation.
A bizarre afterlife adventure -- a homage to Mexican folklore with a film noir twist.
Extraordinary 3D Art Deco -- and Aztec-inspired environments.
The dead come alive in a cast of 55 characters and over 7,000 lines of brilliant dialogue.
Hundreds of puzzles to challenge the novice and veteran adventure gamer.
Designed by Tim Schafer, creator of Full Throttle and Day of the Tentacle®.
The seamless interface puts players smack in Manny's world.
Travel through 90 exotic locations, from the bustling metropolis of El Marrow, the the mountaintop portal to the Ninth Underworld.

Press Release

And here's the official press release given by LucasArts on September 7, 1997:




A dramatic and mythical story of crime and corruption set in a surreal world inspired by Mexican folklore comes to life in Grim Fandango, a new graphic adventure from LucasArts Entertainment Company. Grim Fandango, expected to release in the fall of 1998 on Windows 95, combines elements of classic film noir with a mysterious and engaging story spanning the four year search for redemption by Manny Calavera, a travel agent in the Land of the Dead.

Manny, a true working stiff, is stuck in his own personal purgatory with the ultimate dead-end job. Employed by the Department of Death, Manny must pick up people in the Land of the Living, bring them to the Land of the Dead, and set them off on a four year journey across the underworld -- an excursion that all souls must make before they come to their eternal resting place. Manny canít move on until he meets his sales quota, but what he doesnít know is that the cards are truly stacked against him. Heís caught in the middle of an embezzlement ring thatís preventing him from getting the right clients. Manny soon finds this out and steals a prime prospect, setting in motion a chain of events that not only threaten his job, but the eternal destiny of his soul.

At the heart of Grim Fandango is a gripping story about one manís journey in a dark underworld fraught with mystery and intrigue. Inspired by the films Chinatown, Casablanca and The Big Sleep, the gameís four year saga intertwines the themes of classic film noir with exotic mythology of ancient Mexico. The two genres share elements that are at the core of Mannyís struggle: danger, drama, greed, the passage of an innocent person through a dark and perilous realm, and finally, redemption.

"Grim Fandango is the most ambitious graphic adventure that LucasArts has ever developed," says Tom Byron, product marketing manager for LucasArts. "Tim Schafer, whose other projects at LucasArts include the popular graphic adventure titles Full Throttle and Day of the Tentacle, has successfully undertaken a different approach to Grim Fandango by turning the technical limitations of 3D into an art style."

Graphically, Grim Fandango draws inspiration from Mexican Day of the Dead folklore art and the film Nightmare Before Christmas, showcasing a unique approach never before seen in an interactive title. Characters come to life as skeletons, depicted in a primitive yet realistic folk-art style. Architecture is a combination of Aztec, Mayan and Art Deco, providing Grim Fandango with an exotic and mystical tone. Vehicles are wildly exaggerated custom hot rods, in a style reminiscent of Ed "Big Daddy" Rothís outrageous creations from the 1960s. Grim Fandango features more than 50 mysterious characters and 90 locations, all beautifully rendered in stunning 3D animation.