Grim Fandango Design Document Released!
Posted by James on Wednesday 5th November 2008 @ 6:14 PM

Quite amazingly, to celebrate the 10th anniversary of Grim Fandango, Tim Schafer has released the game's original puzzle document.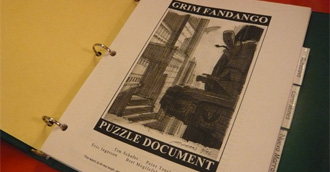 Written over a decade ago, the 72 page document details all of the puzzles from the game, as details and concept art of content which was cut from the game or heavily changed before the final game.

Make sure you take a look.

Update - The document is no longer online, probably due to the fact that Tim Schafer doesn't actually own it.



---

Comments (newest first) - 9 so far


---
meow

04 May 09
10:46 AM

Oh,

I fu#*ing love Grim Fandango!

Hope there will be another part one day... If not, which fan is skilled enough to do it himself with help of others? I'd help if I can...

Thx for still having a good site of GF still online...
---
AMMAK

09 Jan 09
11:36 AM

thanks "joke"

i really said that because i am very sad

let's say this

NOW what is LucasArts??

Nobody knows it

what is EA , UBISOFT ,....etc??
Every Body know them
Why No Body know LucasArts "Recent"??
Because their new games r sucks

Pleeeaaase LucasArts get ur old crew back
get Tim Schafer and others who made best games ever and every body will support U
Games like DOTT ,Monkey Island AND Grim Fandango

PLEEEAAAASE
---
joke

03 Jan 09
9:40 PM

thanks dude
---
AMMAK

02 Jan 09
3:08 PM

I REALLY WANT TO SAY THIS ::::

FUCK LUCAS ARTS

WHY ???

BECAUSE THEY KEEP RELEASE STUPID FUCKING GAMES LIKE STARWARS AND THEY MESS THE BEST GAMES EVER LIKE GRIM FANDANGO & MONKEY ISLAND

REALLLYYY FUCK THEM
---
Bas2888


Comments: 10

15 Dec 08
5:58 AM

link

For anyone who missed it
---
ClemsPaw


Comments: 29

09 Nov 08
10:18 AM

It's Excellent!




---
---
cockroach

05 Nov 08
9:41 PM

nice!
---

Place a comment

Comments disabled until we can solve the spam problem