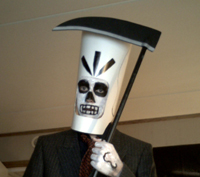 Manuel Costume
By Moragoth - Gallery - Monday 12th November 2007 @ 6:00 PM

This Halloween I dressed up as Manuel Calavera for this years students Halloween reception. I can say that it was VERY popular, most of the people didn't know who I was dressed up as and came up to me to ask, but there was also a huge amount of people that recognised me and really really liked the costume because it brought back a lot of old memories. But what surprised me was the girl that came up to me and seriously asked if I was dressed up as a member from the KKK.
To make the costume I bought an old suit, I didn't find a blue suit that looked authentic enough so I went for a black one. I made the cap out of 2 large pieces of cardboard and I used some make-up that my room-mate had bought. And I would like to thank the toy store for having a Scythe that I could dismantle and have under my suit.



---

Comments (newest first) - 9 so far


---
DemonBeavers

22 May 08
2:14 AM

Fantastic costume. Way to think outside the box!
---
Manny 4 Meche


Comments: 29

21 Jan 08
5:49 AM

ohhhh gosh i thought someone would have sprouted you, by the way you have a really good costume dude im gonna try make one!!!! PS Dude You Rock




---

Manuel Calavera: My scythe... I like to keep it next to where my heart used to be.

---
Milo

14 Jan 08
9:00 PM

Pretty nice idea, but i think you could have made better. Doesn´t look like Manny. Still... Pretty Cool!!
---
ying

09 Jan 08
8:54 PM

thanks for this site! and i love that halloween costume!
---
Josef Motley

18 Dec 07
10:03 AM

NICE! i want one.
---
Du Man

16 Dec 07
7:56 PM

From the thumbnail it looks like he has sun glasses on.

The jacket still looks good, and the tie is on the dot. Maybe you could get someone to photoshop your jacket with a blue tent in this picture, and you'd be on the money
---
Moragoth

Comments: 2

13 Nov 07
6:46 PM

I thought a few would recognice me, but there might have been like 15% of the people at the reception.
---
James

Comments: 53

13 Nov 07
2:56 PM

First Manny costume I've seen using facepaint instead of just a card mask - nice
---
MannyAQUE


Comments: 24

13 Nov 07
12:52 PM

Really great, supriding that people knew about GF




---

One day or another, you'll become a case of flowers...
---

Place a comment

Comments disabled until we can solve the spam problem